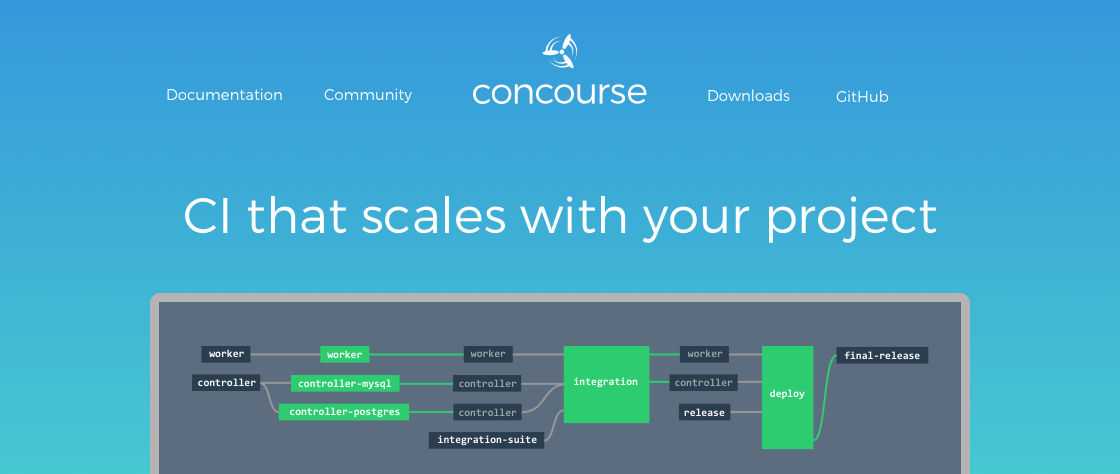 Concourse is an open source continuous integration (CI) system sponsored by Pivotal. Over the course of four weeks, I developed the branding (logo included), designed the marketing home page, and mentored a product designer new to branding.
Role: Led logo design, branding, value proposition icons, and marketing home page
Website: concourse.ci
Branding kickoff
Led stakeholders through a branding exercise to come up with three attributes that best describe Concourse: Dependable, Simple, Composable.
Design then spent a day finding design examples to match the attributes and had key stakeholders review examples and choose the designs that most resonated with them.
Empathy Map
Understanding the end user is as important in UX as it is in branding.
Meet Winston, a developer
at an enterprise company tasked with monitoring and troubleshooting builds in a CI system.
Logo Explorations
The concept of concourse suggested exploring aeronautical visuals in the forms of the propeller, wings, and luggage tags.
Final logo
Stakeholders liked the propeller direction but wanted it to feel more dynamic. We settled on a propeller with clear movement and direction.
Value Propositions
The value propositions were sketched out with developers to accurately illustrate the metaphor of scalable, streamlined, and dependable using paper and model planes. I adapted the sketches into visuals for the marketing page.
Marketing landing PAGE
I introduced a gradient that both suggested the sky and land to reflect the concept of a concourse.